Website migration can be a big challenge, especially for large organizations with tons of sub-sites managed by different departments. The entire website migration can not be done in one day, it means months or even years of  coordinated efforts among different departments located at different paces. In most cases, during the migration, part of the new site is alive, and part of the legacy site is still in use. This situation will last until the completion of website migration.
Imaging thousands of internal and external users lose their accesses to bookmarked pages – which are usually the start point of their daily work – suddenly, with the cut off of legacy site and launch of new site, it will be a mess. To reduce the risks and impacts of the website migration turn to be very important.
The Link Management Solution offered by Lionsgate Software is to seamlessly integrate legacy site and new site, keep them accessible all the time. With the newly launch of new sub-site, the solution may automatically redirect user to the new pages while user access the mapping legacy bookmarks. User may always get information, either from legacy site or new site.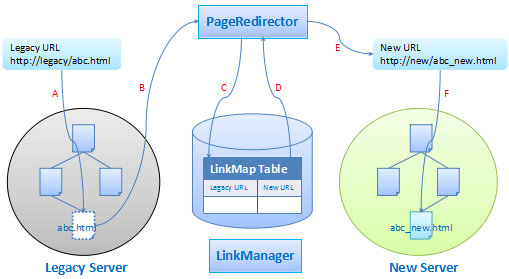 Typical use cases:
Large website migration, redirect legacy browser bookmarks to new site
Server name or domain name change, automatic redirect source site to target one
Website or page redirection automatically
Lionsgate Software offers proven high performance solution that may handle thousands of redirection requests transparently. This solution has been applied to both intranet and internet of a large crown corporation in BC.
| Location | Project | Client |
| --- | --- | --- |
| BC, CA | Large scale website (40,000+ pages Intranet) migration to Adobe AEM / Day CQ | Accenture |
| BC, CA | Large scale website (public-facing Internet) migration to Adobe AEM / Day CQ | Accenture |
Our solution may help you migrate your site smoothly and seamlessly, please contact us to learn more about our high performance solution. Start saving on your IT costs today.