Cross Platforms and Databases: runs in J2EE container, supports JDBC standards;
High Performance: Through multi-threading and batching processing, 40x faster than usual, large throughput;
High Availability: Designed on clustering architecture, offers Always-on and Non-stop function for incremental data synchronization;
High Usability: Responsive web dashboard; Intuitive Job Configuration Wizard; Dynamic adjustable jobs;
Dynamic Extension: Advanced Extension Framework allows quick customization and delivery.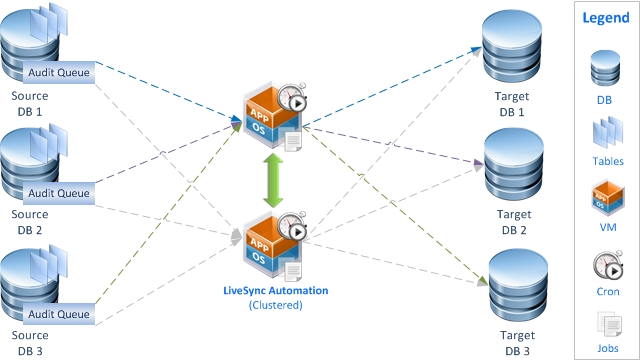 LiveSync Automation is a cross-platform, high performance enterprise database synchronization platform, which offers near real-time initial and incremental database synchronization automation, cron job scheduler, enterprise-level high availability clustering and multi-threading large throughput capabilities.
LiveSync Automation runs in J2EE container and supports JDBC standards, cross-platform and databases. LiveSync Automation provides dynamic and centralized job management, responsive web dashboard, which allows you re-schedule your jobs at any time and anywhere.
LiveSync Automation's advanced dynamic extensive framework allows quick customization and delivery to meet your specific day-to-day business needs.