SQL-92 is a milestone in setting up the standards of SQL query language for relational database. In SQL-92, an important feature is to define Information_Schema – a series of read-only views for retrieving database metadata.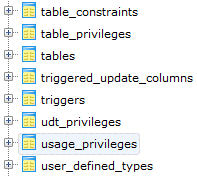 Information_Schema is quite useful when porting one SQL-92 compatible database to another, especially when you have large number of backend scripts which involve metadata operations.
Information_Schema may bring lots of convenience when we build up database-driven solutions since usually these solutions use database metadata quite often.
Let's see which major databases support SQL-92 Information_Schema :
It's a notable exception that Oracle, as No 1 relational database, doesn't implement Information_Schema based on SQL-92. But luckily, most major databases are SQL-92 compatible, such as MySQL, MS SQL Server and PostgreSQL.
Should you want to learn more about database migration, please refer to Database Migration or contact us.