Enterprise architecture creates the blueprint of the enterprise and provides the roadmap to build such an enterprise. EA is an enabler for business transformation and provides an assurance that the whole enterprise moves efficiently and effectively towards fulfilling its strategies and objectives, and therefore towards its mission and vision. In other words, EA is not only about doing things right, but also about doing the right things.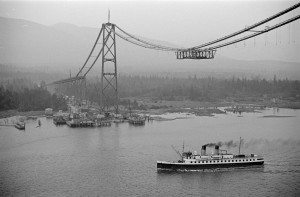 Lionsgate Bridge under construction, by James Crookall 1938
The effective management and exploitation of information through IT is a key factor to business success, and an indispensable means to achieving competitive advantage. An enterprise architecture addresses this need, by providing a strategic context for the evolution of the IT system in response to the constantly changing needs of the business environment.
The capabilities of Lionsgate Software on enterprise architecture design root on 20+ years IT industry best practices and numerous successful project implementations. We offer in-depth enterprise architecture guidance to help your business transformation needs or radical infrastructure changes:
Should you have any questions, please let us know, and start saving on your IT costs today.