Lionsgate Software adopts iterative enterprise architecture design based on following principles, processes and development methods. We provide detail-oriented, operational IT Advisory Services for organizations.
Enterprise architecture guiding principles: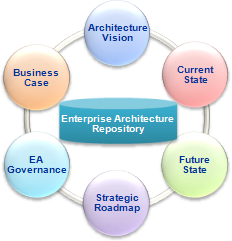 Business driven
Forward thinking
Time to value
Best practices
Enterprise architecture development processes:
Aligns with client and industry enterprise architecture standards
Iterative agile enterprise architecture approach to build IT services
Reuses best practice business models and reference architectures
Enterprise architecture driven development:
Establish enterprise vision
Define business architecture
Define IT architecture
Segment by business
Implement iteratively
Measure and steer

Lionsgate Software uses structured method to plan and design complex business changes. We use standardized models and blueprints to analyze and identify business improvement opportunities. Improvements might be innovations in products and services, organizational structure and business processes, the quality of business information, or the contribution of IT.
Here are part of IT Advisory Services that were achieved by our consultants:
| Location | Project | Client |
| --- | --- | --- |
| BC, CA | Point Grey Research Idera SQLdm Deployment Plan v1.2 (Doc: 52pp) | PGR |
| BC, CA | Oracle WebCenter Content & Application Architecture Advisory Services | Deloitte |
| BC, CA | Imaging Enhancement Project Solution Design v4 (PPT: 16pp) | Deloitte |
| BC, CA | An Overview of Salesforce and Force.com Security (PPT: 19pp) | Private |
| BC, CA | Iterative Enterprise Architecture Design on Oracle Fusion Middleware (PPT: 17pp) | Public |
| BC, CA | Datacenter Virtualization (VMware ESXi) Solution Design (Doc: 92pp; PPT: 24pp) | CCS |
| BC, CA | VMware ESXi SQL Server Farm Solution Design (Doc: 77pp; PPT: 21pp) | CCS |
| BC, CA | ESXi Farm and SAN (Storage) Migration and Replication Plan (Visio: 7 diagrams) | CCS |
| BC, CA | Splunk Enterprise Solution Design (Doc: 90pp; PPT: 25pp) | CCS |
| BC, CA | Splunk Enterprise Strategies and Roadmap (Doc: 15pp; PPT: 15pp) | CCS |
| OH, US | Smucker Content Application Solutions (Doc: 30pp) | Smucker |
| CA, US | Technical Architecture for LADWP DAM Portal Upgrade v2 (Doc: 39pp) | LADWP |
| CA, US | Agilent WebCenter Portal Application Memory Usage Analysis v3 (Doc: 13pp) | Agilent |
| AB, CA | Enbridge PipeLink Portal Solutions (Doc: 68pp) | Enbridge |
| BC, CA | EPIC Database Architecture Design v1.4.doc (Doc: 18pp) | BCHydro |
| BC, CA | Material Management Reporting Data Model Implementation Plan (Doc: 40pp) | BCHydro |
| BC, CA | Link Management Implementation Proposal (Doc: 15pp) | Accenture |
| BC, CA | Website Manager Performance Improvement Proposal (Doc: 6pp) | Accenture |
| BC, CA | Release the Power of Database - Building a Database-driven Web Application Framework (Doc: 48pp) | Private |
Please let us know your enterprise architecture advisory requirements, no matter it's business architecture, data architecture, application architecture or technology architecture design or implementation, we may help you.