Lionsgate Software consultants have done 6+ large data analysis and migration projects among Oracle, MS SQL Server and Informix for both public sector and commercial clients.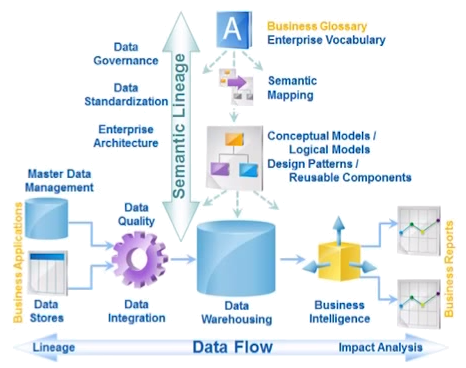 While we do data migration or ETL, we also do Metadata / Master Data Management (MDM), database design optimization, including name convention, transaction system re-design, null-blank conversion, data cleansing and unifying table structure, etc. Our goal is to maximize your database performance after data migration.
There are two flows to handle MDM, one is Semantic Lineage, another is Data Flow as shown in right figure.
We own ETL tool DataEx to achieve large volume data migration from Informix to Oracle.
Along with data migration, our unique strength is that we know how to make your data accessible online, without designing and developing costly portal application, which saves your time and money.
With the outstanding capabilities on data modeling design, Lionsgate Software consultant also achieved lots of data migration projects which came along with the data modeling redesign. Here are part of the data migration projects that were achieved by us:
| Location | Source Data Store | Target Data Store | Client |
| --- | --- | --- | --- |
| BC, CA | Oracle | Oracle | MoF |
| BC, CA | MS SQL Server | MS SQL Server | Carrier Lumber |
| BC, CA | Oracle | Oracle | WFM |
| MB, CA | MS Access and Excel spreadsheets | Oracle | Prov. MB |
| AB, CA | Informix | Oracle | Alpac |
| BC, CA | MS Access | Oracle | Translink |
| ON, CA | Oracle | MS SQL Server | Tembec |
Lionsgate Software is familiar with below databases and languages:

Oracle (PL/SQL)
MS SQL Server (T-SQL)
Sybase
Informix
MS Access
ESRI ArcSDE (spatial DB)
MongoDB (NoSQL DB)
Toolbox: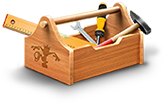 TOAD
Oracle SQL Developer
MS SQL Query Analyzer
Should you have any questions, please let us know. Start saving on your IT costs today.