The goal of application architecture is to meet the requirements of business architecture. Application architecture is one of the most complex area that we need to face to. For common requirements, organizations may acquire COTS (Commercial Off The Shelf) products from enterprise vendor; for specific business needs, organizations face application architecture design and implementation.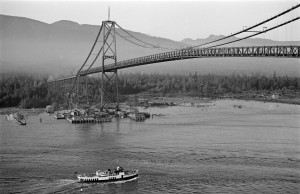 Lionsgate Bridge under construction, by James Crookall 1938
Application architecture design includes a series of steps, including:
Select reference models, viewports and tools
Develop baseline application architecture description
Develop target application architecture description
Gap analysis
Define candidate roadmap components
Resolve impacts across the architecture landscape
Conduct formal stakeholder review
Finalize application architecture
Lionsgate Software application architecture focuses on:
Should you have any questions, please let us know, and start saving on your IT costs today.