Nowadays, to use SOA-based architecture is the main option for enterprise application integration. There are quite a few handy open source candidates from Apache, MuleSoft and Talend, etc. Plus almost all major vendors' ESB offerings, including IBM (Integration Bus), Oracle (OSB, SOA Suite), Software AG (webMethods), TIBCO (ActiveMatrix), Microsoft (BizTalk) and SAP (NetWeaver) etc.  Now the question is, among all of them, which one is the right one for your organization?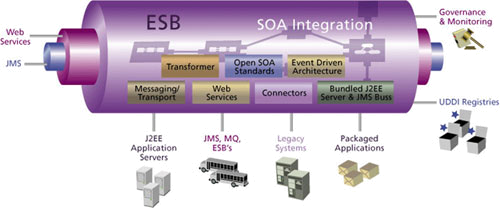 Before diving into following tools section, it's worth to learn 65 enterprise integration patterns (EIP) to gain some knowledge about what and how in this area.
This article will mainly focus on open source solutions since they are more and more popular. Depends on the purpose and functionalities, ESB solutions can be classified into three categories:
Integration Framework

Fit for: application integration, connectivity, routing and transformation
Open Source Solution 1:

Apache Camel (DSL – Domain Specific Language)
Visual Designer: JBoss Fuse Tooling (to generate XML DSL)
Good for: most enterprise integration projects, especially applications integration

Open Source Solution 2:

Visual Designer: Spring Tool Suite
Good for: Spring-based project on basic integration

Enterprise Service Bus

Fit for: enterprise integration, tooling, routing, monitoring and support
Open Source Solutions:
Proprietary Solutions:

Oracle ESB, IBM, Software AG, TIBCO, MS, SAP

Integration Suite

Fit for: BPM, rules engine, enterprise repository, registry, etc.
Open Source Solutions:
Proprietary Solutions:

Oracle SOA Suite, IBM, Software AG, TIBCO
Lionsgatesoft.com consultants have rich experience in enterprise application and service integration design and development. Should you have any questions, please feel free to contact us.