Quite a few of our public sector clients are busy in planning their digital strategies. But to my surprise, one of my potential clients told me although they have their digital strategy, they don't have directions to implement it and they don't know how.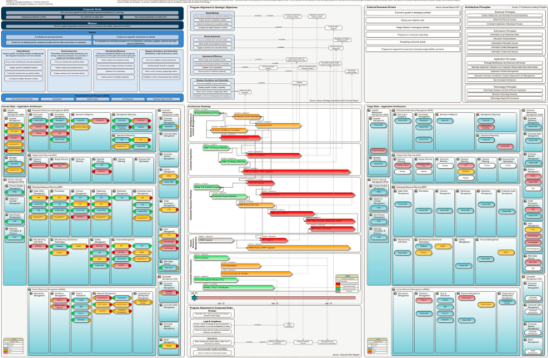 Before we move forward, we need to understand what's included in the digital strategy of an organization. Generally, digital strategy is to use digital technologies, including mobile,  social media, big data and analytics, and the IoTs (Internet of Things), to create new opportunities for innovative business models, based on the vision, mission and goals of the organization.
Then what's the key to the success of your digital strategy? One of a famous researching & consulting firm said Enterprise Architecture is the key. I'd say it's close but not quite complete. My answer is: Enterprise Architecture Program (EA Program).
There are a few important components in an EA Program:
EA Governance

EA Governance Framework
Governance Bodies (ESC, ARB, EAPO and EACP)
Governance Processes (EA Dev, AC, RFE, RM)

EA Principles

Vision, Requirements and Practices
Business Needs
Policies and Guidance
Software Development Life Cycle (SDLC)
Budget Management

EA Planning

IMIT Planning Framework
EA Roadmap
Vision
Plans

EA Repository

The place to store EA related documentation, usually an ECM system

EA Maturity Assessment, Metrics  and KPI

Usually an annual based assessment

EA Communication, Training and Education

Ensure EA Program is aware in the organization
For more information, please access Enterprise Architecture. Should you have questions on how to build up an EA program in details, please contact us.