It's an era of cloud computing. In order to provide adequate computing power, more and more data centers are under construction. In these data centers, VMware is the core solution to reduce costs while increasing the efficiency and utilization of the existing physical hardware.
It's often to present enterprise architectural design with MS Visio diagrams. But the pain is VMware has never offered a set of stencils for this officially. Fortunately, someone made it for us. The quality of these stencils is just remarkable! And the best of all is, they are free! 😉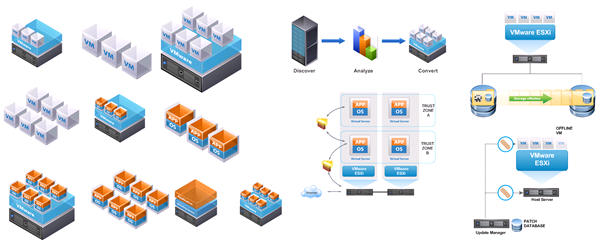 These stencils are offered by Maish Saidel-Keesing. You should be able to download them through his blog site. Enjoy!
Additionally, I would like to introduce MS Office 2014 Visio Stencil. This stencil was made of high quality and can be applied to the scenes of network, database and cloud computing, etc.
Furthermore, VisioCafe collected a bunch of stencils for you to enjoy.
Please refer to Consulting for one-stop enterprise IT consulting services, including Enterprise Architecture, Data Architecture, Content Management, Application Architecture and IT Infrastructure. Should you have any questions, please feel free to contact us.