What's the mostly used suggestion by Ellucian Support when you looked for help? Based on my experience, the answer is always "to upgrade to the latest version with all prerequisites". That's the answer with which I never satisfied since I believe it's an excuse for incapability. Am I correct? The answer is yes till I experienced the GJAPCTL report issue on Banner 9.
In Banner 9 environment, I tried to run GJAPCTL report, for instance NBRPOSN, but unfortunately I got "ERROR" There is no saved output for the Process Name/Number in the database.

There was no report output file nbrposn*.lis generated on BANJOBS home directory. The log file was created with error message below:
Username

:

ORA

-

01017

:

invalid

username

/

password

;

logon

denied

Password

:

ORA

-

01005

:

null

password

given

;

logon

denied

Username

:

ORA

-

01017

:

invalid

username

/

password

;

logon

denied

ERM

-

NOLOGIN

:

Unable

to

CONNECT

to

ORACLE

after

3

attempts
It looked like Banner 9 has not passed the password to shell script gjajobs.shl, and thus it's unable to connect to database to general report. Adding debug to gjajobs.shl verified this!! But, the weird part is that the same report NBRPOSN running via Banner 8, which calls same script gjajobs.shl, is successful without any issue. Definitely, the password has been passed over to Banner 8 environment.
Now the challenge is that, within Application Navigator, we need get report running working for both Banner 8 INB form and Banner 9 admin page. How do we achieve this goal? The solution is "Oracle Wallet Proxy for Job Submission". Upon setting oracle wallet, GJAPCTL report running through Job Submission Proxy need to be enforced in Banner 8 form GSASECR. Unfortunately,  I didn't find such setting option in our environment.
I then created a service case to Ellucian Support, and the feedback is once again "to upgrade to the latest version with all prerequisites". Is it instantly helpful? No. But, it did direct me to review the version of Banner 8 form GSASECR. What I found is that the oracle wallet proxy feature is offered at version 8.8 and we are still on version 8.6. By following the Banner General 8.8 upgrade guide,  I recompiled Banner General 8.8 version form GSASECR, along with related ones GUAINIT, GUQINTF, GSAAUDT, and GSADBAP. And then, the enforce option is available in GSASECR. By enforcing this option and authorizing BANJSPROXY proxy in GSASECR, the GJAPCTL report running is eventually working fine for both Banner8 and Banner9.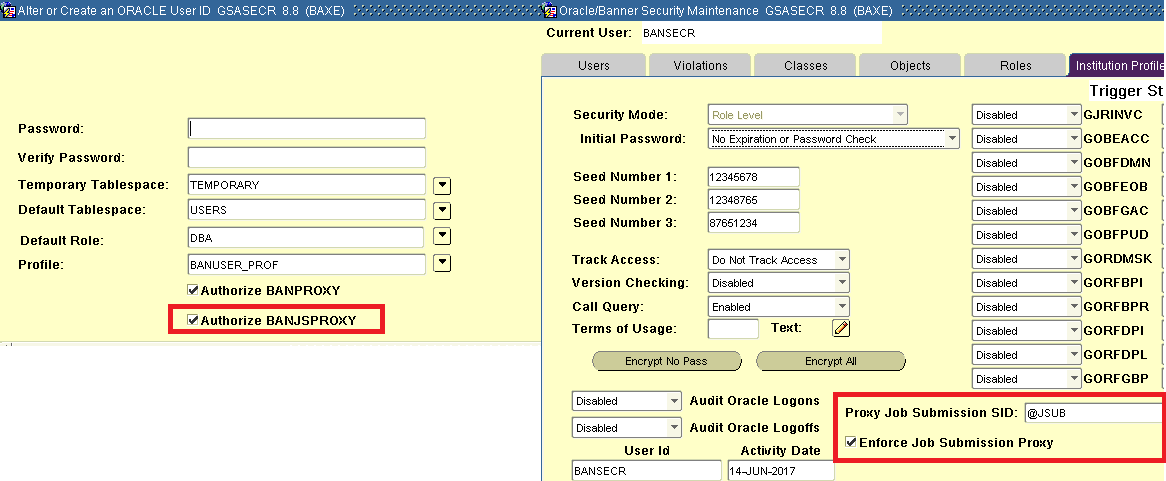 That's an issue we experienced in the process of Banner 9 upgrade. It's time to think about the routine feedback from Ellucian: to upgrade to the latest version with all prerequisites. For Ellucian Banner users, the target Banner 9 version has multiple prerequisite Banner 8 releases. It doesn't matter how you deal with the upgrade, either through ESM or manual process, please do remember to get all the updated forms, libraries, and others upgraded. Since Banner 8.8, Ellucian started to prepare for the future Banner 9 environment. More features were introduced gradually. To avoid missing any new features, it's really wroth thinking this over and over when you do Banner 9 upgrade. Again, the best practice for Banner 9 migration is to upgrade every prerequisite release completely from now on, if possible.
Our consultant gained thorough experience on Ellucian Banner 9 upgrade, should you have any questions regarding Ellucian Banner 9 upgrade, please feel free to contact us.